Hi everyone! Hope you all had a wonderful Thanskgiving holiday. Earlier this month,
Karen Burniston
released a small collection of dies and I'm so excited to share this card using one of my favorites from the collection - the Tag Book Pop-Up. Imagine all the possibilities with this cool die!
Wow! Right?! I love that this card looks so complicated, but it's actually incredibly simple to put together - that means you can spend your time embellishing it to your heart's content.
For this card, I decided to use some of my favorite papers and embellishments from Tim Holtz. The little bunting was made with pennant dies that are included in the set, plus little snowflake charms from the Winter Charms set. The trees were also made with dies from the charms set - I just cut off the top ring.
See that little paper clip? It's a die! Also included in the set. I cut this one from cardstock that was covered with metal foil tape. It needs a bit of glue to hold it in place but it makes such a cute accent. My little 'holly' leaves were cut using the fall leave die from the Tree Pop-Up die set. I scored a line down the middle and added a red pearl and you'd never know it's not a holly die.
I hope you enjoyed this cozy winter tag card. I can't wait to try more variations. The supplies I used can be found at Simon Says Stamp and Amazon via the links below. The paper is from an older TH collection, but many of the same/similar patterns are in the newer set.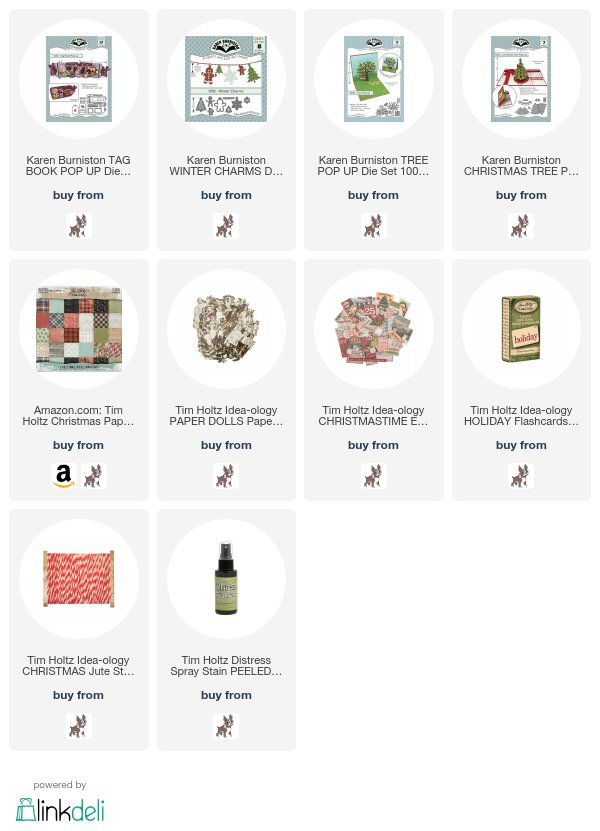 Thanks so much for stopping by today!