Happy Halloween, everyone! Once a month, my friends and I get together for lunch and some creative play time. We also recently started a fun swap, making pages that we store in books we made with Eileen Hull's Journal die.
This month the theme was Halloween, of course! I am still obsessed with Ranger's Distress Oxide inks and decided to use them to create a background for my panel. I used dies from
Karen Burniston
to create a graveyard scene for my witch to pose in. To make the fence taller, I folded a piece of black cardstock and placed the die on top with the bottom edge just over the fold. When it's cut, the bottom stays intact so that when it's unfolded, you have a double-high fence! I thought the sentiment fit the expression on my witch's face perfectly.
It was my turn to host lunch and I thought it would be fun to have a gothic-themed Halloween party. I blame it on my obsession with Penny Dreadful. I just discovered that show and am in love with it!
One thing that was fun about creating this tablescape is that I had almost everything on hand - it was just a matter of pulling it all together. The flowers are a combination of grocery store bouquets and ferns and weeds from my yard. Note the little framed picture of the witches. I joked that it was the four of us and I was the one on the far right - that's who I used for my card! :)
A little black spray paint gives this terra cotta thrift store find a somber look. The little tealight holder is from Pottery Barn.
I have a bit of an obsession with old, tarnished silver, and I think I used about every piece I owned! For the place settings, I used silver trays as chargers, then layered on plates from the dollar store and Home Goods. I found the little glass and metal cups at Salvation Army and fell in love with them! The milk glass tumblers came from Tuesday Morning, and the napkins are from Michaels.
For some reason, I thought a red velvet cake with red rosette icing was a good idea. What was I thinking?! I have never tried to make a deep red colored icing and may never attempt it again. That's a lot of food coloring! I wanted it to have black edges - kind of a singed look - so I first tried spraying on black coloring mist, which didn't really work at all. I ended up spraying it in a bowl and brushing it on. Kinda worked?
More silver serving pieces piles with treats. I love the weirdness of the Moon Drop grapes - they're perfect for a witchy party!
You can find the supplies I used at Amazon and Simon Says Stamp via the links below. Click the icon for the store you prefer to shop at.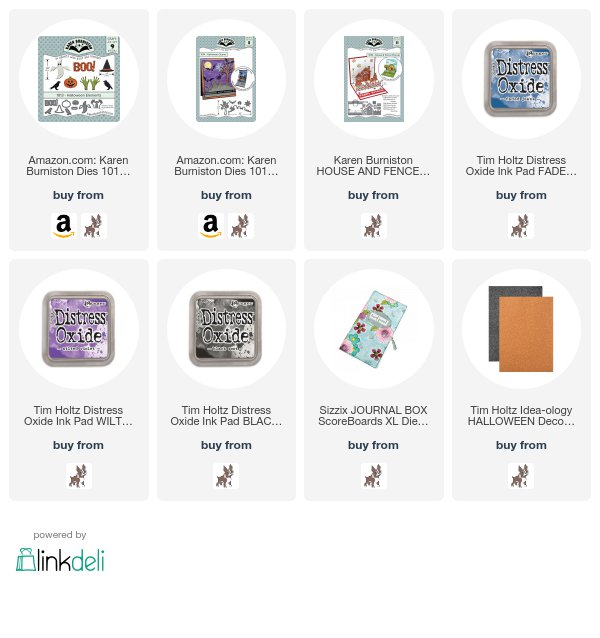 Thanks so much for stopping by today - have a hauntingly happy Halloween and a great week!